About Breedon's Maple Syrup
Breedon's Maple Syrup is a first generation, family owned and operated business. We are a modern maple syrup operation that welcomes the public for TOURS and demonstrations in season, during March and April. We are located South West of Alliston at the edge of Hockley Valley, in Simcoe County. We have been producing quality pure maple syrup since 1995.
Currently we tap about 5000+ maple trees. The sap is collected using about 40 miles of tube networking throughout the bush. With the use of our wood pellet fired evaporator, stainless steel tanks, reverse osmosis system, filter press and a semi-automatic bottling unit, we can proudly say we run an operation that is extremely efficient while proving to be environmentally responsible.
We also offer a display of the use of buckets for sap collection and a cast iron kettle for cooking to educate the public on the pioneer methods of syrup production. Be sure to bring your camera!
Stop by to tour the farm and try a sample of our pure maple syrup while browsing through our on the farm store full of maple syrup, treats and various maple products. We are open all year round and look forward to providing you with premium quality maple syrup that will keep you coming back for more.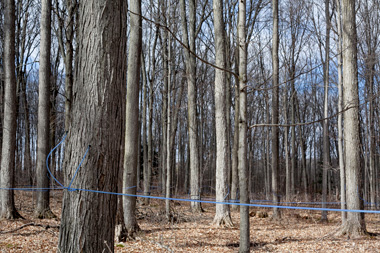 Approximately 80% of the world's maple syrup comes from Canada
Learn more >